The selection of appropriate handling and storage and/or compaction equipment to meet the objectives of each customer is one of the most important considerations in system design. The right equipment minimises waste handling, maximises available storage and thus minimises collection frequency, vehicle emissions and costs.
What differentiates Corio Waste Management Pty Ltd from its competitors? We believe it's:
the regularity and timeliness of our collections
our capability to offer varying collection quantities and equipment options
the cleanliness of our collection containers and vehicles
our innovations in service delivery
our effective communication
and most importantly our organisational knowledge.
Corio Waste Management Pty Ltd uses AS 4123.7-2008 Mobile waste containers Part 7: Colours, markings and designation requirements for mobile waste containers with a capacity from 80 to 1700 litres and front lift bins. This is similar to the colour-coded systems most of us have in the home and is easily identifiable by system users at work. The markings (decals) on the bin instruct the user on what types of materials can and can't be placed in the bin and provides safe loading instructions. This system is proven to increase resource recovery rates through increased participation in recycling services.

FRONT LIFT BIN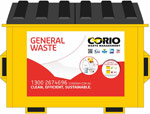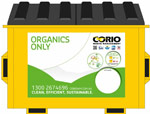 1.5m3 and 3m3 plastic front lift bins.
Colour coded markings (decals).
Single piece counterweighted plastic lids.
Automatic lock.
Cast iron, rubber or polyurethane castors (wheels).
Steel handles on each side of the bin.
Drainage sockets.
Suitable for medium to high volume commercial and industrial waste producers.
HOOKLIFT BINS (ALSO CALLED BULK BINS OR SKIPS)


Best suited to commercial and industrial customers who generate large volumes of waste and have the space available to store containers on-site.
Hooklift Containers are ideal for building sites, shopping centres, manufacturing businesses, large multi-business complexes and hospitals that generate dense, bulky, non-compactable materials such as timber, wood, steel, concrete, bricks and soils.
Hooklift Container sizes range from 2m3 to 40m3 capacities and are manufactured with heavy-duty steel.
High volume waste generators can use an on-site stationary or transportable compaction to further reduce transportation costs and service requirements.
Hooklift Containers are easy to use and can be loaded by hand, chute, conveyor, tippler and other custom manufactured handling and transfer equipment. Large rear doors ensure efficient and safe material loading.
Hooklift Containers can be supplied with a variety of optional accessories including hydraulic lids, tarpaulins, splash plates, sealed doors and tailgates, liners, loading containers, bin lifters, tipplers and docket holders.
REAR LIFT BINS (4-WHEELED CONTAINERS)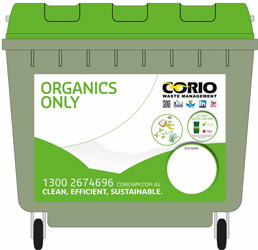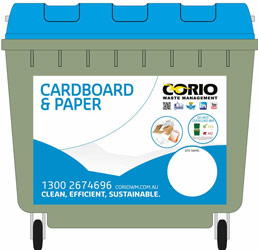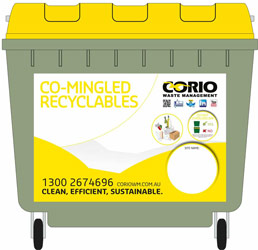 Bins ranging from 660 Litres to 1700 Litres
Bin lids and markings (decals) colour-coded in accordance with AS 4123.7-2008 or customer requirements.
Four solid rubber tyre wheels with footbrakes on two front wheels.
Drainage plug.
Container body has four side handles and two rear grab handles for manoeuvrability.
The hinged lid has one handle at the front and more recess for opening.
Dome lid, lid within lid, foot pedal lid operation, lock with triangular key and gravity lock available.
Suitable for commercial, industrial and municipal wastes.
REAR LIFT BINS (2-WHEELED CONTAINERS)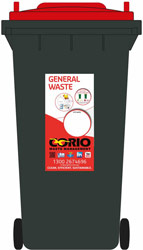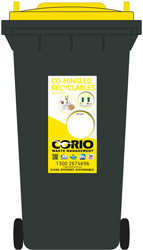 Bin sizes from 80 Litres to 360 Litres.
Bin lids and markings (decals) colour-coded in accordance with AS 4123.7-2008 or customer requirements.
Lid and lip seal prevent rain water ingress.
Two 200 mm diameter rotating swivel wheels.
Moulded rear handles for manoeuvrability.
Hinged lid and two front handles.
Ideal for low density, compactable and frequently collected commercial and industrial waste streams.
Suitable for indoor and outdoor use.
UNDER DESK AND OFFICE FLOOR BOXES
For recycling paper and cardboard.
Also available with internal plastic liner for co-mingled recyclables.
OTHER RECYCLING RECEPTACLES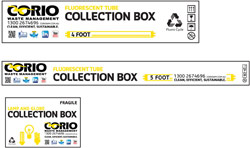 For recycling batteries, fluorescent tubes and globes.
COMPACTORS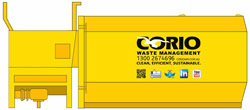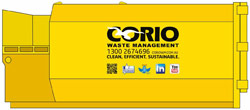 The primary purpose of stationary compaction is to densify waste for hauling. Achieving a high rate of compaction allows the use of fewer bins and reduces the number of loads transported from the site. Numerous types of stationary compaction systems are available. Manufacturers are continually refining and redesigning compaction equipment to meet changing needs and to apply advances in technology. Trends in the industry include increased use of computer-aided equipment and electronic controls.
Containers with capacities from 10m3 to 40m3 are supplied with the stationary compactor. Self-contained compactors (also referred to as 'integrated' or 'transportable' compactors) have a compaction chamber volume from 5m3 to 30m3. Stationary compaction is suitable for dry solid wastes, i.e. plastic, paper and cardboard. Self-contained compactors are suitable putrescible wastes. The following types of equipment can be manufactured as a self-contained or stationary compactor.
A hydraulic ram compactor contains a horizontal hydraulically-driven ram. The ram pushes the waste from the compactors receiving chamber into a second chamber, e.g. the container. The hydraulic ram can also be designed to cycle back and forth through an arc ('swing blade' or 'pendulum' compactor) within the compaction chamber forcing waste into the collection body on the forward stroke.
A single and dual auger compactor contains a spiralled and tapered screw that crushes and grinds the waste and continuously forces it from the front towards the rear of the container, thus there is no need to consider the volume of the feed hopper or cycle time. Subsequently waste can be continuously fed into the feed hopper, since the operator is not required to wait for the compactor to cycle before filling the feed hopper.
A roller compactor uses a heavy steel roller to compact waste in open-top containers. A heavy roller runs back and forth in the container, crushing and compressing the waste to about one-fifth of the original volume.
There are a number of optional features available with compaction equipment supplied by Corio Waste Management Pty Ltd including container full warning lights and email or SMS text message alters from the PLC, refrigerated containers, weighing system on the bin lifter and swipe card systems.
Stationary compaction equipment can also be mounted onto a hydraulic sliding sub-frame. A hydraulic ram operated by a remote control panel on the wall of the building is used to roll the sub-frame back and forth away from obstructions, i.e., walls, awnings, overhead structures etc. to an area that is suitable for vehicular access and then back to its original position. The sub-frame is hinge mounted to the wall in one corner while the other three corners are mounted on to heavy-duty steel or rubber castors. This type of design in suitable in circumstances where the compaction equipment must be located in a particular area for the waste to be efficiently loaded into the hopper, i.e. a loading dock or enclosed building where there is insufficient space or overhead clearance available to lift the full container and set down the empty container.
We can also assist customers in the design, manufacturing and installation of waste handling and transfer systems including:
Automated guided vehicles
Mechanical handling equipment such as conveyor systems
High-density polyethylene, zincalume, stainless steel or galvabond garbage chutes
Fork-lift operated tippler bins
Hydraulic bin -lifting equipment for loading of transfer bins into the compactor hopper.
BALERS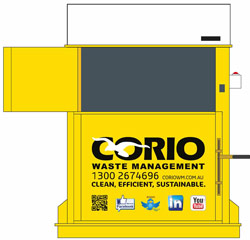 Vertical balers are used to compact and bale waste paper, cardboard, plastic, polystyrene, steel and aluminium. There are a number of important considerations when selecting the most appropriate baling equipment for your particular application:
The space available and size of the bailer
The size and density of the waste materials
The weight of bales
Handling and storage of the bales
Feed rate (continuous or batch)
Manual or automatic operation
Baling of waste and recyclables reduces the on-site storage space required prior to collection and thus collection and transportation costs.
For more information about our commercial collection, recycling and disposals services, call our Contact Centre on 1300 267 4696 or enquire online.