CLINICAL WASTE MANAGEMENT & DISPOSAL SERVICES
Here at Corio Waste Management Pty Ltd, we offer integrated and comprehensive services to a wide range of generators of sanitary, clinical, cytotoxic and related wastes. We service in a professional and helpful manner: acupuncture clinics, brothels, first aid and washroom facilities in commercial buildings and workplaces, dental practitioners, emergency services, funeral parlours, hospitals, healthcare facilities, needle exchange programs, pathology laboratories, schools, tattooists, universities and veterinarians.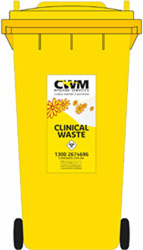 But that's not all. We also provide:
Expert advice on how to safely and legally segregate, label, store and dispose sanitary, clinical and cytotoxic waste
Thorough and accurate training for all staff involved in the generation and handling of wastes
Licensed transport, collection and quality treatment
Regular and careful auditing of processes and procedures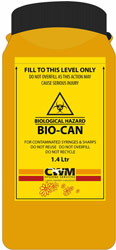 For your convenience and peace of mind, we can collect, transport, treat and dispose of all types of clinical and related wastes, which include but are not limited to:
Clinical waste
Pharmaceutical waste
Cytotoxic waste
Sharps
X-rays and medical imaging wastes
Mercury containing instruments
Plastic packaging
If there is an item not on your list that you would like to dispose of, just give us a call. We will do our best to fulfil your request using the resources we have.
WHAT WE SUPPLY
We supply five and 10 litre sharps containers, 20 to 55 litre pails and larger 80, 120 and 240 litre bins for the on-site storage of clinical and related wastes.
For further information on our clinical and related waste disposal services, please call our Customer Service Centre today on 1300 267 4696 or enquire online here.